NASA's Orion capsule arrives at Cape Canaveral Launch pad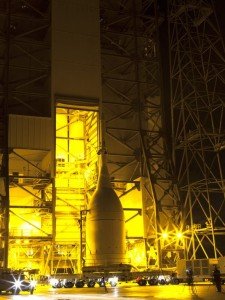 NASA's Orion capsule has arrived at its Cape Canaveral launch pad.
Unmanned first test flight on Dec. 4, Orion departed a Kennedy Space Center processing facility to start a 22-mile journey to Launch Complex 37 at Cape Canaveral Air Force Station.
Orion is a $375 million Exploration Flight Test-1 mission, which is targeting a 7:05 a.m. Dec. 4 to take off.
The two-orbit flight will send Orion 3,600 miles into space to test various systems, notably the heat shield during a nearly 20,000-mph reentry through the atmosphere prior to a splashdown in the Pacific Ocean.
The mission is one of two test flights without a crew before astronauts are a boarded by NASA's Space Launch System exploration rocket, possibly by 2021.
By the mid-20s, NASA hopes Orion will take a crew to a small asteroid that has been mechanically pulled to an orbit near the moon. The agency says a human mission to Mars is possible in the 2030s.